My Writings and Ramblings
On Goldmine's web site: http://www.goldminemag.com/reviews/album-reviews/moody-bluegrass-two%E2%80%A6much-love
Moody Bluegrass Two…Much Love
Moody Bluegrass Two…Much Love
Various Artists
Moody Bluegrass Two…Much Love
Bunny Rae Records
BRRMBG2

****

By Christine Ellis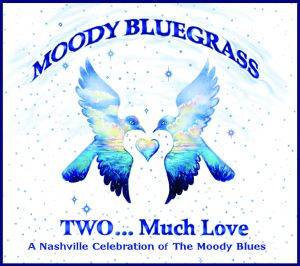 Nashville is home to some of the greatest musicians in the world and bluegrass musicians are among the best of the best. Moody Bluegrass Two…Much Love features Sam Bush, John Cowan, Vince Gill, Ricky Skaggs, Carl Jackson, Tim O'Brien and other well known bluegrass musicians performing on fifteen songs from the Moody Blues catalog. Original Moody Blues members Justin Hayward, John Lodge, Graeme Edge, Ray Thomas and Mike Pinder also appear on this album.
The bluegrass instrumentation features primarily stringed instruments - dobro, mandolin, guitar, fiddle, banjo, bass. The performances are outstanding as would be expected from the musicians appearing on this album. The acoustic sounds convey the emotions of each song, bringing a unique but true-to-the-original sound to each of the songs.

Bluegrass fans will enjoy the selection of songs, even if they have not heard the original Moody Blues versions. Fans of the Moody Blues will appreciate the passion and musicianship this group of musicians put into each song. Highlights include "Dear Diary" performed by Tim O'Brien, "It's Cold Outside Your Heart" performed by Justin Hayward, "Say It With Love" performed by Jan Harvey, and "Nice To Be Here" performed by Sam Bush. Vince Gill is featured on "I Know You're Out There Somewhere" and John Cowan sings "Tuesday Afternoon," the two songs the casual Moody Blues fan will know.

The final song on the album is an original instrumental composition written by Tim May and album producer David Harvey, the song is a tribute to the In Search Of The Lost Chord album.

This album brings together two worlds, each of which will enjoy what they hear.
~July 18, 2011, Christine Ellis