My Writings and Ramblings
The Oak Ridge Boys - It's Only Natural
It's Only Natural - Perfect Harmony of Old and New Oak Ridge Boys
The Oak Ridge Boys
It's Only Natural
Cracker Barrel Old Country Store - CBOCS Properties Inc/ORB II Productions, Inc (7 94504 42180 4)

****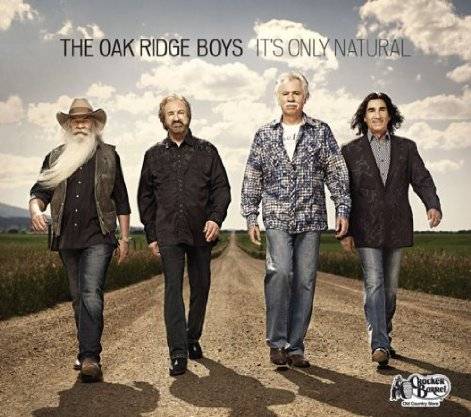 "These guys are as individual as it gets. But when they sing together in perfect four-part harmony - somehow, it's only natural."

Duane Allen, Joe Bonsall, William Lee Golden and Richard Sterban are for very distinct singers. You know each one's voice when you hear it. Put them together and you have a sound to which no other vocal group can compare.

The Oak Ridge Boys are known for their unique harmonies and their longevity. Partnering with the Cracker Barrel, they have rerecorded seven songs from their lengthy catalog and paired it with five new songs for a well-rounded release. The catalog songs, along with the new tunes, highlight each of the four singers perfectly. 

Long-time fans of the group are going to enjoy the updated recordings of "Gonna Take a Lot of River," "True Heart" and "No Matter How High I Get." They still have the same magic as the originals, just better with age and years of singing these songs live.  "Elvira" was rerecorded for this compilation highlighting the 30th anniversary of the song - one of their most popular and best-known songs by fans of all ages.

Highlights of the new songs include "The Shade, "Wish You Could Have Been There" and "Sacrifice…For Me." The latter being a tribute to America's servicemen and women.

With the Oak Ridge Boys, you get an album full of highlights and no fillers. This album is no exception, the best songs, a great mix of classics and new songs and each of the four individual voices are featured beautifully. A must have for all Oak Ridge Boys fans and country music fans in general.
~ November 14, 2011, Christine Ellis